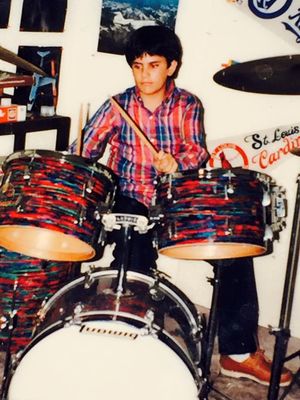 About
Hello, I'm Mike Zeoli (aka "Mikke" - pronounced: MY-key) and thanks for checking out my website.  I love playing drums and I love to make music!  I've always been drawn to the power of music and especially to the hypnotic rhythms of drums and percussion.  As a young child I loved playing along to the radio with kitchen utensils and whatever was in reach.  My very first concert was seeing KISS and CHEAP TRICK when I was 5 years old, then the JACKSON FIVE on their final "Victory" reunion show.  Experiencing live music made such a huge impression upon me and fueled my obsession for all kinds of music and to learn how to play the drums.
I was eleven when I got my first real Ludwig drum set and Zildjian cymbals.  I immediately started private lessons and joined middle school band playing percussion. After school I'd usually be jamming with my neighborhood friends unless we were busy riding bikes, skateboarding, listening to music or playing video games (pre-internet days).  My high school years were filled with a lot more drum lessons, playing music in marching band, jazz big band, jazz combo, stage band, percussion ensemble, and pit orchestra with the local theater and state honors band.  My college years as a music major continued with even more intensive music study, until I decided to completely change my major and focused on Anthropology, Archaeology and Spanish language studies.  Although I always continued playing drums in bands at small clubs, friends parties, and also teaching private drum lessons as well.
After years of making my way around the Austin music scene with a wide variety of different bands, I noticed one of my bands began playing for bigger crowds and started playing better shows on bigger stages.  The Del Castillo band gained more notoriety at the Austin Music Awards (best drums 2003) and more recognition working with award winning film maker Robert Rodriguez when he filmed the band's first live DVD and featured their music in his film, "Once Upon A Time In Mexico".  Which eventually led to Del Castillo playing on the soundtrack for Quentin Tarantino's film, "Kill Bill Vol. II" and others.  Then the band began regional and national tour dates sharing the stage with other artists like Willie Nelson, The Gipsy Kings, Los Lonely Boys, Los Lobos, STYX, Foreigner, Don Henley, Ryan Bingham and also recorded with Santana.  Del Castillo has released six LP albums and two live DVD's and has also played extended tours overseas in Europe.  I'm excited to say after 22 years the Del Castillo band is still playing live shows and we're working on new music for a future album soon!
Another major musical passion for me is teaching.  Scientific studies show that drumming reduces anxiety and stress, which is an added benefit we all need no doubt!  Getting to be part of my students' musical journey and growth is such a privilege and an enriching experience.  My music company is Better Beats Music - with over 25 years experience working with students of all skill levels and ages and working with those having certain learning disabilities.  I offer private in person lessons at Blue Frog School of Music in Austin, Texas or online lessons to students worldwide.  Se habla Español.
I've also recorded my drumming on other albums with different bands over the years which are listed on the music page and video page.  One of my latest projects is playing with multi-talented guitarist, Nathan Hinojosa of Spicy Loops (from Austin, Tx).  The website also has a music player that features my own music and the songs are available for download.  Email me at: betterbeatsmusic@gmail.com for private drum lessons, if you need music written for your media project, if you need drums and percussion for a recording project or for a collaboration on your next professional music project.  Click on the shows page for a list of upcoming events I'll be playing.  Thanks again for checking out my website and be sure to visit the online merch shop to support my work.  I hope your inspiration finds you no matter what it might be!